3 Ways You Can Help Food & Friends for Back to School
September 9, 2016
We know life is busy right now with back to school, so we will be quick!

It's important that our Food & Friends programs begin operating as soon as possible to ensure that we are bringing healthy food to hungry minds – even during the first week of school. We want to ensure students can concentrate in class, feel safe and included and don't have growling bellies.

If it wasn't for community donations these breakfast, morning meal, snack and lunch programs would not exist. We need your help.

Here's 3 ways you can help Food & Friends for Back to School

Donate now. It only takes $28 to provide breakfast for one elementary student for a month.

Volunteer. The duties and timing are very flexible and we can set you up with the right match for you and the school.

Buy a smile cookie. Pop in to a local Tim Hortons September 12 – 18th and purchase these delicious cookies, they are only $1. Get some for yourself or for a gathering, 100% of the proceeds come to F&F.
Thank you for your continued support,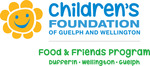 The Food & Friends Team
Anita Macfarlane, Bobbi Turner, Heather Verpaalen
Children's Foundation of Guelph and Wellington